Sectigo and SSL247 Advance Partnership with Enterprise Solution Training and Certification
Sectigo and SSL247 Advance Partnership with Enterprise Solution Training and Certification
SSL247 chosen as a Preferred and Platinum Partner of Sectigo
LONDON, UK – January 07, 2020 – Sectigo (formerly Comodo CA), the world's largest commercial Certificate Authority (CA) and a provider of purpose-built, automated PKI solutions, has expanded its partnership with SSL247, a global reseller of SSL, PKI and IoT security products for online business continuity. SSL247 is a Sectigo Platinum Partner and was recently named a Preferred Partner in over 20 countries globally including Italy, Spain, Poland, Switzerland, Mexico, and Chile. In addition, SSL247 is participating in Sectigo's technical training and certification program enabling them to deliver best-in-class sales and support for custom PKI and online security solutions, extending value and expertise to their customers.
As part of SSL247's Sectigo focused initiatives, they recently launched Sectigo.club, a Sectigo-exclusive website especially designed to enable increased awareness and sales for Sectigo product lines, namely PositiveSSL, SectigoSSL and EnterpriseSSL.
"SSL247 is a long-standing, trusted Sectigo Platinum partner, providing focused and extensive expertise in PKI and SSL solutions," said Heather Bell, Vice President of Enterprise Channel Sales, Sectigo. "They consistently provide best-practice services to their impressive roster of customers using Sectigo solutions, making SSL247 one of our largest and most strategic partners across an expanding number of geographic regions worldwide."
Benjamin Tack, Commercial Director for SSL247, said, "SSL247 greatly values our long-standing partnership with Sectigo. We are excited to be working with Sectigo for SSL in addition to reselling Sectigo's enterprise solutions and appreciate the technical training and sales certification that are equipping our business managers with the expertise to not only increase sales but add value to customers who rely on our ability to deliver truly best-practice PKI security and identity management solutions that give them peace of mind in business continuity. SSL247 is honored to be chosen as a Preferred and Platinum Partner of Sectigo in 20 countries worldwide"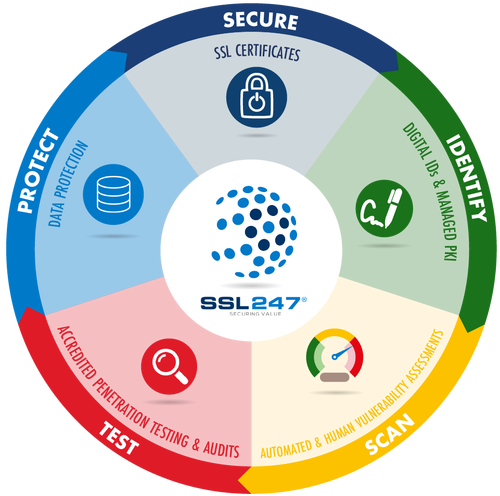 Sectigo Enterprise Solutions
Sectigo enables enterprises to manage and automate the entire digital certificate lifecycle for their public and private certificates to secure and protect their websites, connected devices, and digital identities. The company's suite of award-winning purpose-built, automated PKI enterprise solutions protect digital identities – from users and devices to code or DevOps – against threats. Sectigo Certificate Manager, the foundation for the company's enterprise solutions, is a cloud-based platform that gives enterprises complete visibility and control over any certificate in their environment, regardless of the issuing Certificate Authority (CA). Through a single portal, enterprises can manage every certificate and initiate self-service or automation that delivers compliance and business agility.
Sectigo unveiled its improved Channel Partner Program earlier this year, enabling partners to expand into new segments within the cybersecurity market and to leverage additional support, tools, and discounts.
---
About Sectigo
Sectigo (formerly Comodo CA) provides purpose-built, automated PKI solutions that secure websites, connected devices, applications, and digital identities. As the largest commercial Certificate Authority trusted by enterprises globally for more than 20 years, and more than 100 million SSL certificates issued in over 200 countries, Sectigo has the proven performance and experience to meet the growing needs of securing today's digital landscape. For more information, visit www.sectigo.com.
About SSL247
With over 15 years of web and cybersecurity experience operating across 18 markets, we at SSL247 have learned a thing or two about the industry. It's not enough to just supply the products. Because online and physical security means so much to your business and reputation, genuine support and service are invaluable. Using our expertise and emphasis on support we offer all our clients bespoke recommendations. Every business is different and, just like a fine suit, your security solutions require significant tailoring to give you the perfect fit.
Send us your comments
Your comment will not be published. If you have a question, do not forget to write your email address so that we can get back to you!