DigiCert SSL Certificates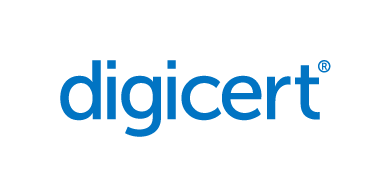 DigiCert (formerly Symantec Website Security) is the industry's most trusted and widely respected provider of high-assurance certificates, trusted by the world's top companies to secure billions of transactions, worth billions of dollars, every day. For good reason. Since their founding almost two decades ago, DigiCert has been committed to doing what's right for the internet, putting people ahead of technology, and constantly searching for a better way to solve tomorrow's most challenging problems. From innovative tools to make the certificate process faster and easier to manage, to security solutions for the post-quantum-computing age.
What a DigiCert SSL certificate will do for your business:
Most Trusted Roots

DigiCert is more than a certificate authority. They are a keeper of public trust on the internet, securing 89% of Fortune 500 companies, 97 of the Top 100 banks and 87% of encrypted e-commerce transactions globally.



Highest Level of Authentication

With Secure Site, you and your customers are assured the highest level of authentication, which means the highest level of consumer confidence in your website and your brand.




Choose from Norton or DigiCert Secured Seals

As the most well-recognized symbols for online security, the Norton and DigiCert Secured seals provide browser-visible trust to improve conversion rates for customers.




Priority Validation and Support

Not only do Secure Site customers get exclusive access to the fastest, most painless validation experience available, they get priority support with a concierge phone line and 24/7/365 email and live chat.




First Commercially Available PQC Toolkit

Secure Site Pro includes the first commercially available Post Quantum Cryptography test kit and is also the only certificate that includes CT Log monitoring.



Seal-in-Search technology will give customers confidence to transact on your site. 94% of online consumers say they're more likely to continue with an online purchase when they see Norton Seal, compared to other trust seals*. It will also display the Norton Seal next to your URL in search engine results, helping you to stand out from competitors and driving new business to your website.

*U.S. Online Consumer Study, February 2011
Would you like to know more about DigiCert?
If you're in a rush, you can visit our Wizard for an instant recommendation. You might also find our "Why DigiCert" page helpful.
Or find out if your business needs DigiCert security by getting in touch with our friendly, accredited SSL consultants
0204 519 2097 (London office)
sales@ssl247.co.uk