How to learn how to issue a Certificate Signing Request for Cisco Adaptive Security Appliance 5500 ?
To generate a CSR with your Cisco Adaptive Security Appliance 5500, please follow these steps:
1. In Cisco Adaptive Security Device Manager (ASDM), go to "Configuration" and then "Device Management".
2. Expand "Certificate Management" and select "Identity Certificates" and press "Add".
3. Select "Add a new identity certificate" and click the "New" link for the Key Pair.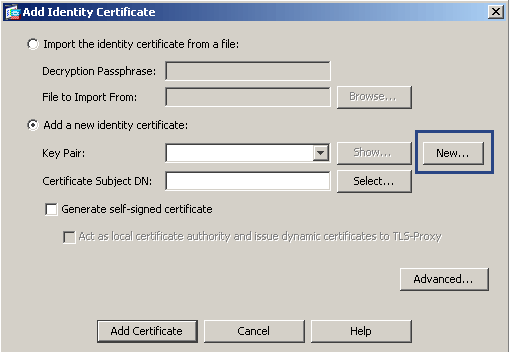 4. Select "Enter new key pair name" and enter any name. Then click "Generate Now" and create your key pair.
5. Define the "Certificate Subject DN" by clicking "Select" to the right of the field. For each attribute, press "Add>>".
Common Name – Must match the URL you plan to secure exactly – is usually your fully-qualified domain name, e.g., devel.ssl247.co.uk or mail.devel.ssl247.co.uk). Remember the www. Is important – include it if you want to secure https://www.yoursite.com & exclude it if you want to secure https://yoursite.com
Company Name - The legal (officially registered) name of your organization/company include Inc., LLP., Pvt, Plc. Ltd. SARL., etc
Department - The name of your department within the organization (this is often "IT," "Web," or is just left blank).
Location - The city or town in which your organization is located.
State - The state in which your organization is located.
Country - Click here for the official list of ISO country codes for this field.
6. Click "Advanced" in window "Add Identity Certificate"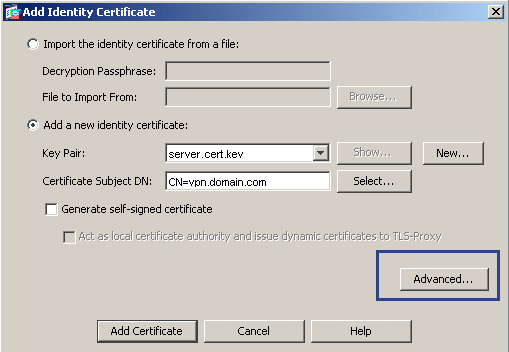 7. In the FQDN box, type in the fully-qualified domain name through which the device can be accessed externally (e.g. vpn.domain.com or same name as Common Name in step 5)
8. Click "OK" and "Add Certificate". Open the CSR file and copy/paste the entire contents (including the BEGIN and END tags) into our order form.