How to install your SSL Certificate for Citrix Secure Gateway?
Please follow these instructions to install your SSL certificate on Citrix Secure Gateway:
1. Once you received your SSL certificate by e-mail, please copy and paste it into a text file (with Notepad or Wordpad) and save the file with the .crt extension (include the tags -----BEGIN CERTIFICATE----- and -----END CERTIFICATE-----) on your Secure Gateway server.
2. Launch the Microsoft Management Console (do Start > Run > MMC).
3. Go to File > Add/Remove Snap-in.
4. Click Add. Select Certificates and click Add.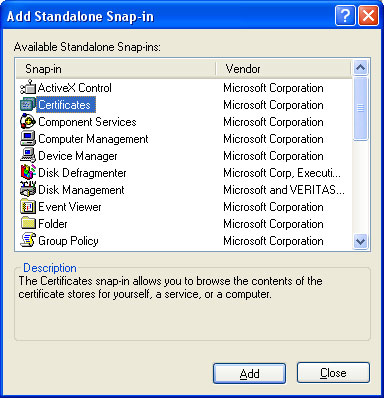 5. Select Computer Account. Click Next and select Local Computer.
6. Click Finish.
7. In the MMC, right-click on Certificates > Personal > Certificates and go to All Tasks > Import.
8. Click Browse and select your certificate (from step 1).
9. Click Next.
10. Restart your server.
For further information, please look at the official guide.